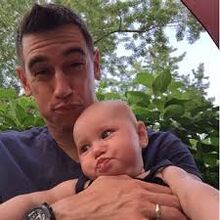 Eliza Gilroy (born January 29,2015) is an American who's dad,
Chase Gilroy
, has over 380,000 subscribers on his youtube channel,
GilroyVlogs
. Her uncle,
Roman Atwood
has almost 13,000,000 subscribers on his channels,
RomanAtwood
and
RomanAtwoodVlogs
.
Early Life
Eliza Gilroy was born on January 29,2015 to Veronica Janelle Gilroy and Chase Lee Gilroy in Ohio. She has two older brothers Colin Gilroy and Carsen Gilroy . She has two older cousins, Noah Vaughn Atwood and Kane Alexander Atwood . She was born in Chase's vlog,zkoudOV9lug , is when Eliza was born. Her aunt, Brittney Smith is Veronica's sister.
Gallery